What is Amazon QuickSight?
Amazon QuickSight is a data visualization service that Amazon Web Services (AWS) provides. This tool enables companies to create interactive visualizations and customized dashboards from their data, making it easier to understand and make data-driven decisions. It easily integrates with various data sources, including databases, data warehouses, web services, and more, making it easy to pull data from multiple sources and consolidate it in one place.
This tool is used by various users, including businesses of all sizes, analytics teams, sales and marketing departments, finance, educational organizations, IT and DevOps teams.
Key Features
1. Versatile Data Connectivity
Amazon QuickSight supports various data sources, including AWS services such as Amazon Redshift, Amazon RDS, Amazon Athena, and many more. It can also connect to external sources such as SQL databases, Salesforce, CSV files, and Excel spreadsheets. This means you can consolidate all your data in one place for more effective analysis.
2. Interactive Visualizations
The platform offers various visualization types, from simple charts to geospatial maps. Creating interactive visualizations is as simple as dragging and dropping elements, making exploring data and identifying key patterns in your information accessible.
3. Custom Control Panels
This service allows you to combine multiple visualizations into custom dashboards for a complete view of your data. These dashboards can be easily shared, fostering effective collaborative decision-making.
4. Integration with other tools
Amazon QuickSight integrates tightly with other AWS services, making creating end-to-end data analytics workflows easy. You can use services like AWS Lambda to automate tasks and constantly update your visualizations. In addition to AWS Lambda, you can leverage tools like Amazon SageMaker to incorporate artificial intelligence and machine learning into your analytics. This synergy with additional AWS services extends your analytics capabilities and allows you to explore new dimensions of your data.
5. Data Governance and Democratization
Amazon QuickSight offers Row Level Security (RLS) to restrict access at the row level and Column Level Security (CLS) to limit access to specific columns. This ensures data privacy while enabling broader, collaborative access.
Benefits
Ease of Use: No programming or data analysis experience is required to use QuickSight. Its intuitive interface allows users of all levels to create compelling visualizations.
Cost-Effective:Amazon QuickSight offers flexible pricing options, which means you only pay for the capacity you use, making it a cost-effective solution.
Scalability: QuickSight can handle small and large data sets, making it suitable for companies of any size.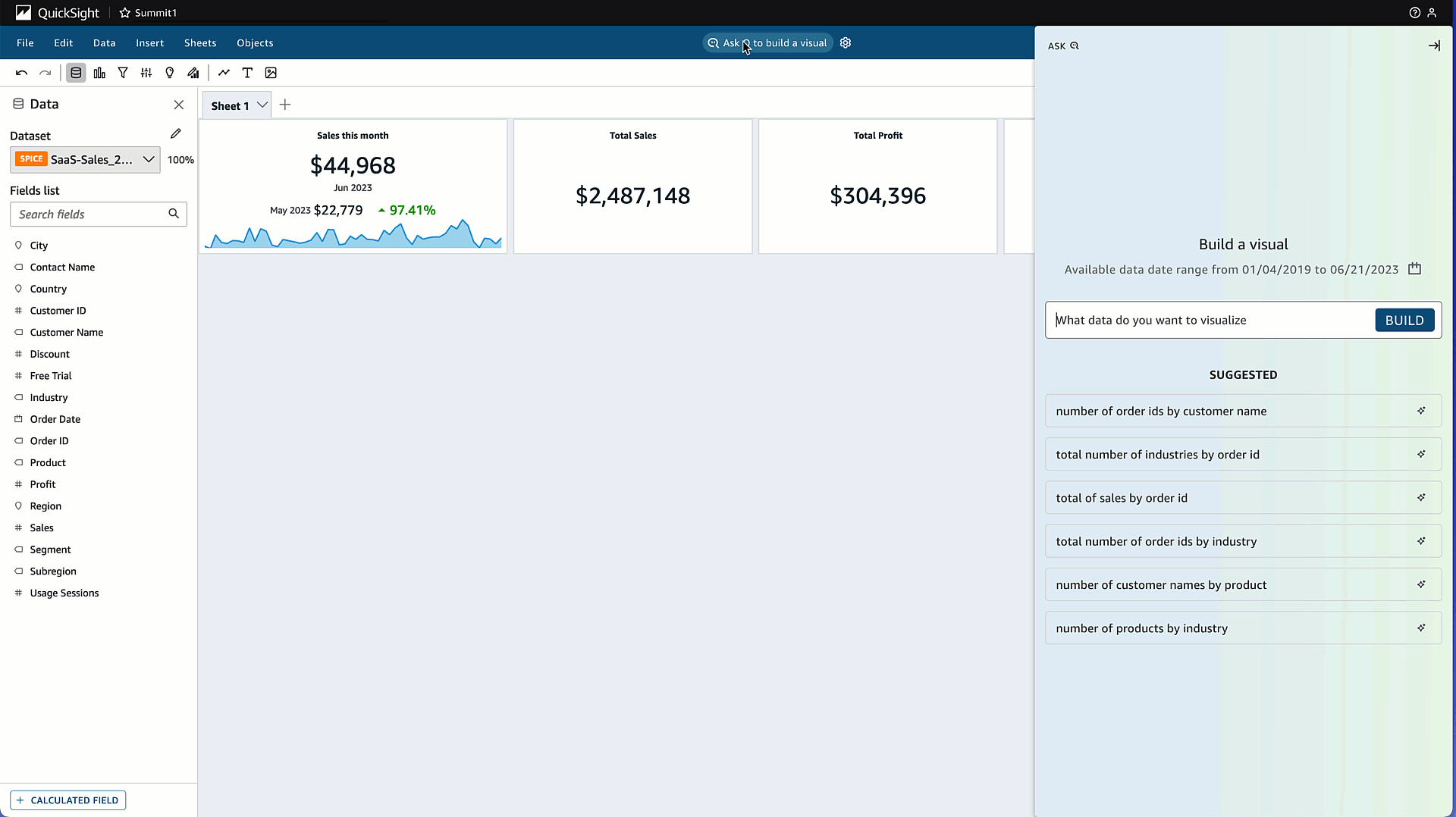 Amazon QuickSight Q: A promising future
Recent advances in generative artificial intelligence and large language models have opened up a new world of possibilities for organizations. These advances have given rise to Amazon QuickSight Q.This new version of Amazon QuickSight allows you to ask questions about your data in natural language and get answers with relevant visualizations. It will enable any user to ask questions about their data without the need to write SQL queries or learn a BI tool.
Amazon QuickSight Q is impressive in its ability to understand your intent. It uses Machine Learning to understand the meaning and relationships between your business data, which means the answers you get are accurate and relevant to your question.
This new version of QuickSight will offer Generative BI capabilities soon through Amazon Bedrock integration. This will enable organizations to uncover insights hidden in their data faster and more efficiently. Also, analysts will be able to generate visualizations, calculations, and more.
If you want to see and discover the potential of Amazon QuickSight and the new features. You can register for our event "Amazon QuickSight Experience", an event where experts in the tool will share their knowledge and experience to enhance your capabilities in data analysis. Reserve your place now by clicking here.